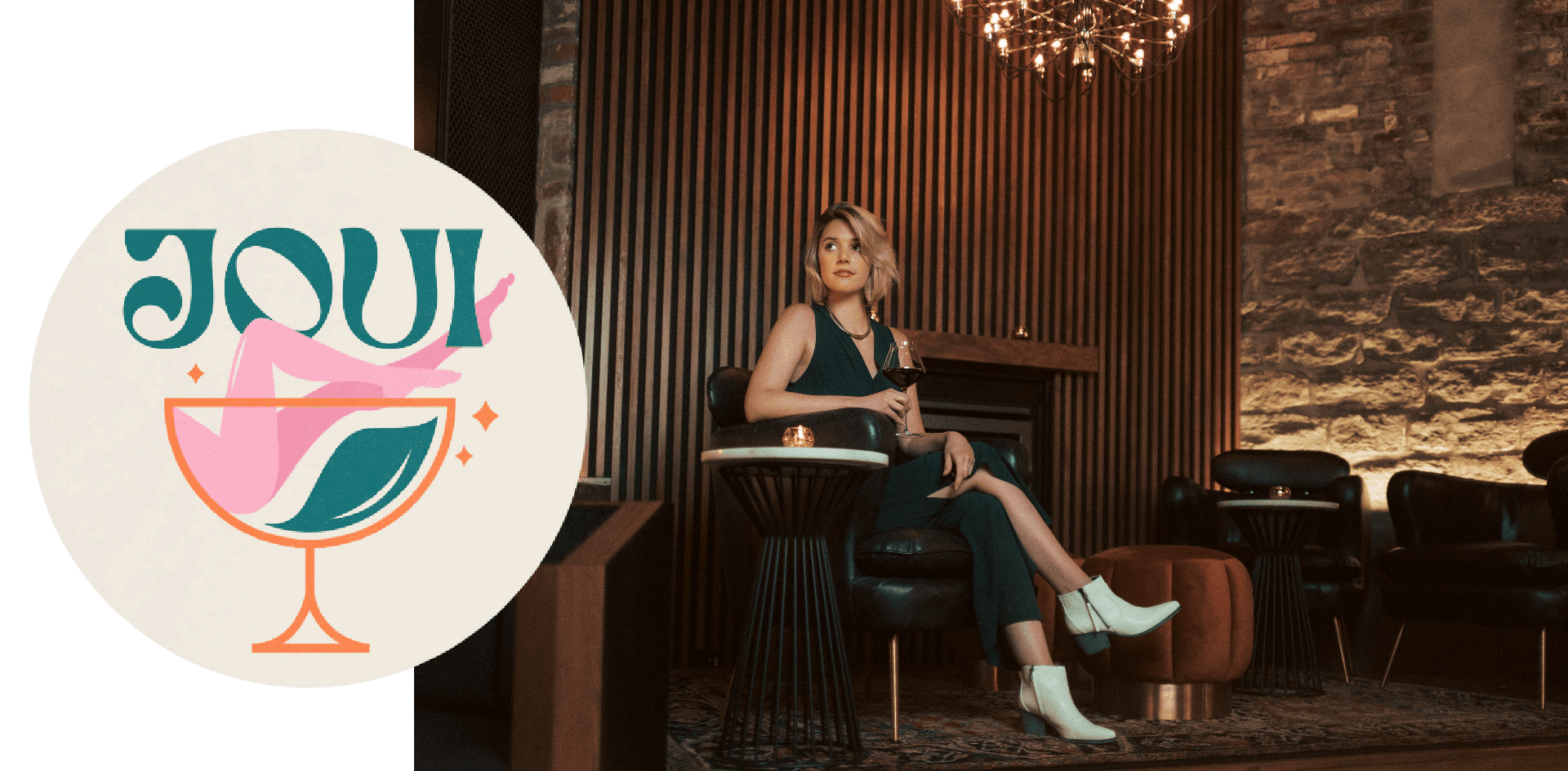 Get ready to savor an exclusive interview with the dynamic Lauren Gay, General Manager/Wine Director at Sueño and Tender Mercy, and more recently, the mastermind behind Dayton's upcoming gem: Joui Wine. We had the pleasure of sitting down with Lauren as she shared her passion for wine, the journey of building her business from scratch, and the fun—not pretentious or stuffy—vision behind this fall's most anticipated wine destination. So, grab your glasses, and let's raise a toast to the wonderful world of Joui Wine!
How have you personally grown from becoming an entrepreneur?
I find that I grow to fit the space I'm in. In my career, I have constantly challenged myself by putting myself in bigger rooms and searching for that growth. Taking the leap of faith and starting a business has been the biggest challenge to date. I know wine and hospitality. I've helped open several businesses. But I've never created one literally from scratch, based solely on my ideas, by myself. I am consistently in uncomfortable scenarios where I am tasked with something that I have no idea how to accomplish. As scary as it is, I've been able to figure it out so far. I've learned so much about things I never thought about: lease negotiation, putting together a business plan, construction lingo, choosing equipment and finishes, and more about HVAC than I ever wished to know. It's been a wild ride, and I've gained so much confidence in my ability to navigate these situations and decisions. I think maybe the biggest point of growth has been learning to lean on others and utilize available resources. There is not a chance I would have taken on this opportunity if it wasn't for the support of so many in the community. The Idea Collective has backed me up and provided me with their time, advice, and talent. The Entrepreneur's Center and Small Business Development Center have been instrumental in this process. My business advisor Lisa Crum has provided me with so many tools and resources, connected me with others in the community, and sometimes even acted as a stand-in therapist. She is one of my biggest champions and I would be lost without her. Dayton is the city of innovation, and there are resources here to encourage that spirit. You just have to tap into them.
If you had 15 minutes to chat with your former self on day one of your startup, what wisdom would you impart to her and why?
Day one of my startup was honestly not that long ago, yet I feel that I still have come so far. I think I would have told myself to analyze my time more critically. It's currently my most limited resource. I wish I would have stopped wasting time on things that aren't propelling me forward, and prioritized time on things that were. It's easy to stay in a routine because it is comfortable. I've had to adjust some aspects of my life (work balance, social connections, prioritizing mental and physical well being, etc) in order to make room to create this business. I wish I would have gotten in the habit earlier of recognizing what is valuable in creating what I want, and getting rid of things that hinder that forward progression.
What will you never compromise on with your business?
Putting people first. Working in a service-based industry means that your team is the most important part of the business, and preserving the guest experience is a close second. I try to do everything within my power to make sure that I create an environment where my team looks forward to coming to work, where they feel appreciated, challenged, and respected. This ethos was immediately the reason that I connected so well with the Idea Collective (owners of Tender Mercy and Sueño). We've worked hard to create that people-focused culture in those businesses, and it will be priority number one with Joui as well. When you have a happy team, it permeates a place. Guests feel that pervasively positive energy. It all trickles down.
Other than drinking wine, how do you conquer the moments of doubt that cause some entrepreneurs to call it quits?
My greatest asset in life are my friends and family. I am so lucky to have a circle of people that are loving and supportive, and I rely on them for advice, pep talks, and fun distractions. I absolutely hate feeling like a burden to anybody, but I've learned recently to let people help. I get such joy from being a support to my loved ones, so I need to allow them do the same for me. And they certainly do. From inundating my friends with pictures of fabric samples and asking for advice, or getting talked down from a "holy sh*t what have I gotten myself into" conversation, my friends and family have been through the wringer, yet still continue to gas me up.
Even if you had unlimited resources, what's one business decision you would never change?
Moving back to Dayton to start my business. I love California and always thought that I would end up out there. It's drawn me in a few times, and I looked at property out there to potentially start a wine shop. But I never got the feeling that these were my people, this was my town. For me, it was important for my first business to be in a city where I understood the demographics, culture, and trends. I also have a network of support here, and I know without them this would have been entirely impossible. I love this city, am so excited about how it is growing, and am so honored to help contribute to that in some small way.
What prompted you to take the entrepreneurial jump into starting your own wine bar?
I think the answer is two fold. First, I constantly need to be challenged. I get bored. As much as I depend on routine in my life, I can't deal with the monotony of doing the same things over and over. This was a way of parleying what I know (wine, hospitality, people management) into a new challenge. Second, I feel that starting this business is a way of creating the kind of life that I want for myself long term. I have done my penance working nights, weekends, and holidays. I know when we open, I will be there all the time. But the next big step that I am looking forward to is identifying talent, creating systems, and then letting this thing go on it's own a little bit. I also love to travel and always need that to be an integral part of my life. I have not traveled as extensively after the pandemic, and I need to make that part of my life again. I typically travel with an educational goal in mind, and am already planning wine-centric trips where I can see vineyard sites, meet my favorite producers, and discover new gems. Who knows…maybe Joui will even offer planned, guided wine trips!
What is different about your wine bar compared to other local bars?
I think that the main difference is just that: wine. Dayton is a beer town first and foremost, with spirits and cocktails as a close second. With the exception of the Silver Slipper (my favorite downtown spot), there aren't many places you can go that focuses on wine. I want to get people excited about the process of discovering, learning about, and drinking wine.
What type of atmosphere will the wine bar have?
I have been so honored to work with Ginger Roddick and David Kettridge from the Idea Collective for all of the design work. They have unparalleled vision and knowledge in creating experiential hospitality concepts, and I know that Joui will be a beautiful space. The atmosphere is first and foremost fun. Wine is often times pretentious and stuffy, and it doesn't have to be. I want the space to reflect the kind of explorative, relaxed approach that I take to wine. The space is bright, and will be full of light colors, flowing shapes, plants, and art. I want it to be a comfortable place for people to bring their laptop and work, grab a light snack, or have a pre-dinner drink. I want it to be a place of comfort and pleasure.
Share Article