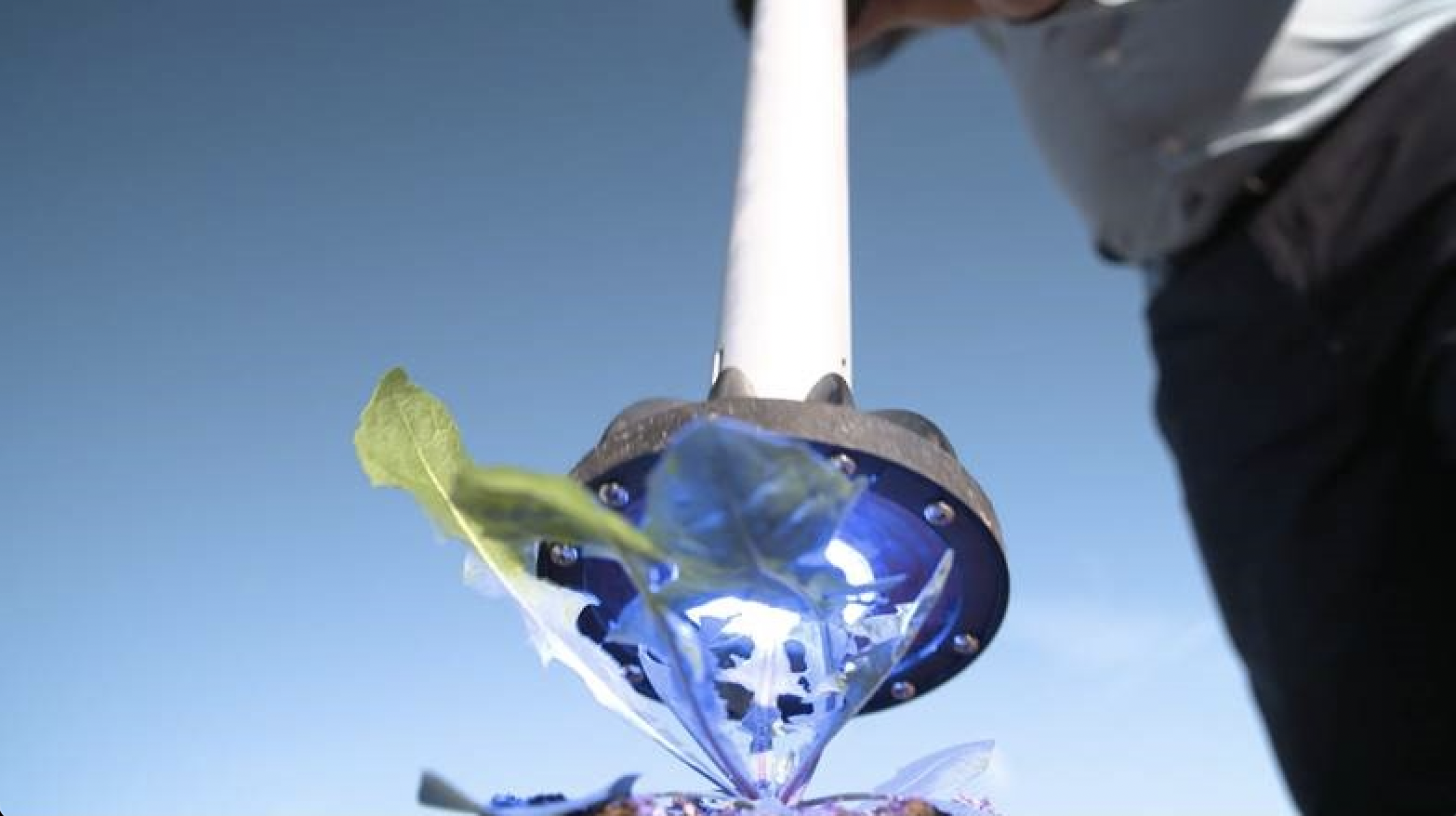 A victory for farmers and the environment
Dayton, OH, January 5, 2022 – Global Neighbor, Inc. (GNI), a growing Ohio-based innovation leader in developing clean, environmentally friendly Directed Energy (DE) solutions to combat weeds for both homeowners and farmers, and a client of the Entrepreneurs' Center, today announced the signing of a Lead Investor Agreement with Innova Memphis, a globally recognized early-stage venture capital firm focused on starting and funding high-growth companies in the bioscience, technology, and AgTech fields.
Led by Innova Memphis and Partner Dean Didato, the current investment round has already captured >$1.1M in the initial closing and the firm expects to secure another investment in the next 90 days to satisfy the first equity financing of $2M. Innova Memphis has a track record of successful exits including: AgriSync, Growers Holdings, Arkis Biosciences, and ExtraOrtho Inc. Furthermore, in 2021, Innova Memphis was recognized as #5 on the list of Most Active Venture Capital Fund Managers in the 2021 AgFunder AgriFoodTech Investment Report, and the most active VC investor in the state of Tennessee in Tech Startups' list of the Top Venture Capital Firms. 
"This is a significant accomplishment and I'm surprised at how quickly the first financing round came together. I'm very proud to be entering this elite phase of our funding journey that will accelerate rapid growth of our company in 2022," said Jon Jackson, president and founder of GNI.
Didato added, "Global Neighbor has facilitated this financing in a relatively short period, which is impressive for the sector and the stage of the firm. Innova is confident that the enthusiasm around GNI's weed eradicating products will generate broader interest from additional investors moving forward. We are proud to be a partner in promoting this truly innovative technology which will have a positive impact on future farming and the environment."
The equity financing round of investors included Ag Ventures Alliance (AVA), a nationally recognized farmer-owned organization formed to make early-stage investments in technologies that enhance on-farm profitability, and Clean Energy Venture Group (CEVG), an investment group providing seed capital and management expertise to early-stage clean energy companies.
Prior to this round, GNI has received approximately $3.8M in grant funding over the last seven years, including Small Business Innovation Research (SBIR) grants from the U.S. Air Force (USAF) and U.S. Department of Agriculture (USDA). Phase I of the USDA's SBIR grants are awarded to just 10% of the applicants and in 2020 GNI was one of only three Ohio-based companies awarded the $100K grant. Invited to apply for a phase II grant in 2021, GNI was the only Ohio-based company selected to receive the $650K award, which is actively in use to develop and commercialize its Weed Seed Destroyer product.
GNI has successfully developed multiple products and continues to lead the way in environmentally friendly weed control with a collection of seven issued utility patents and five pending patents. Unlike chemical-based herbicides, GNI's products utilize its clean, patented Directed Energy (DE) technologies. "DE weed control kills weed seeds, seedlings, and unwanted plants using dual-wavelength, unnatural illumination sources applied at high intensity for short duration, eliminating the need for harmful herbicides," said Jackson.
Currently, GNI offers DE weed control solutions for residential and agricultural applications, each having its own system solution and light blend to address its needs. For homeowners wanting to safely control weeds in their lawns and gardens, there is the affordable handheld WeedErase. Licensed to Viatek Consumer Products Group, WeedErase is available for purchase online at Amazon and GNI's NatureZap.com, and at popular retailers like Sharper Image, Home Depot, and Walmart. For farmers, the company is hard at work developing its Weed Seed Destroyer, which will attach to a combine harvester to destroy weed seeds at harvest.
Scott Koorndyk, president of the Entrepreneurs' Center, said, "The completion of a first close is a milestone moment for any startup and we are excited to celebrate this win with GNI. It's been a privilege for the EC to guide them through the process. But it's also a victory for the planet and farmers as they will benefit greatly from the future commercialization of GNI's innovative and eco-friendly products currently in development."
GNI, based in Xenia, Ohio, is near some of the nation's leading grain and produce farmers across the Midwest who serve as advisory members. They provide access to field test sites and valuable input that gives GNI a deeper understanding of farming and how to make the process more efficient and profitable while addressing and mitigating the environmental concerns.
About Global Neighbor, Inc.
Global Neighbor Inc. (GNI) began its activities in 2014 with a single mission: to reduce chemical usage around the home and farm. Fueled by a passion for and commitment to protecting the earth, GNI is a leader in successfully developing multiple environmentally friendly products to eradicate weeds and unwanted plants by means of its patented Directed Energy (DE) technologies utilizing dual-wavelength, unnatural illumination sources, thereby eliminating the need for harmful herbicides. For more information, visit: https://g-neighbor.com/
About Innova Memphis
Founded in 2007, Innova Memphis is a globally recognized early-stage venture capital firm focused on starting and funding high-growth companies in the biosciences, technology, and AgTech fields. The firm provides seed capital and experienced hands-on mentorship, market expertise, and leadership to accelerate the creation of groundbreaking products and services into thriving businesses. Innova Memphis has invested in over 128 companies and has been recognized by both CrunchBase/Forbes and SSTI in their rankings of most active, early-stage investors. For additional information, visit: https://www.innovamemphis.com/
About Entrepreneurs' Center
The Entrepreneurs' Center (EC) is a modern economic development organization that powers progress and prosperity through entrepreneurship. Annually, the EC works with over 1,000 brilliant entrepreneurs to start and grow companies, create jobs, generate revenue, and attract investment. The EC empowers main street and technology businesses through complimentary professional services, including business planning, mentoring, training, networking, and commercialization. The EC's talented and experienced team of advisors, entrepreneurs-in-residence, and staff design and facilitate diverse, world-class business acceleration programs on behalf of corporations, higher education institutions, and government agencies, including the U.S. Department of Defense, from their headquarters at The Hub Powered by PNC Bank in the historic Dayton Arcade. Learn more at EC Innovates. 
---
For More Information, Contact:
Leslie Klenke, Director of Marketing
Entrepreneurs' Center
[email protected]
Share Article