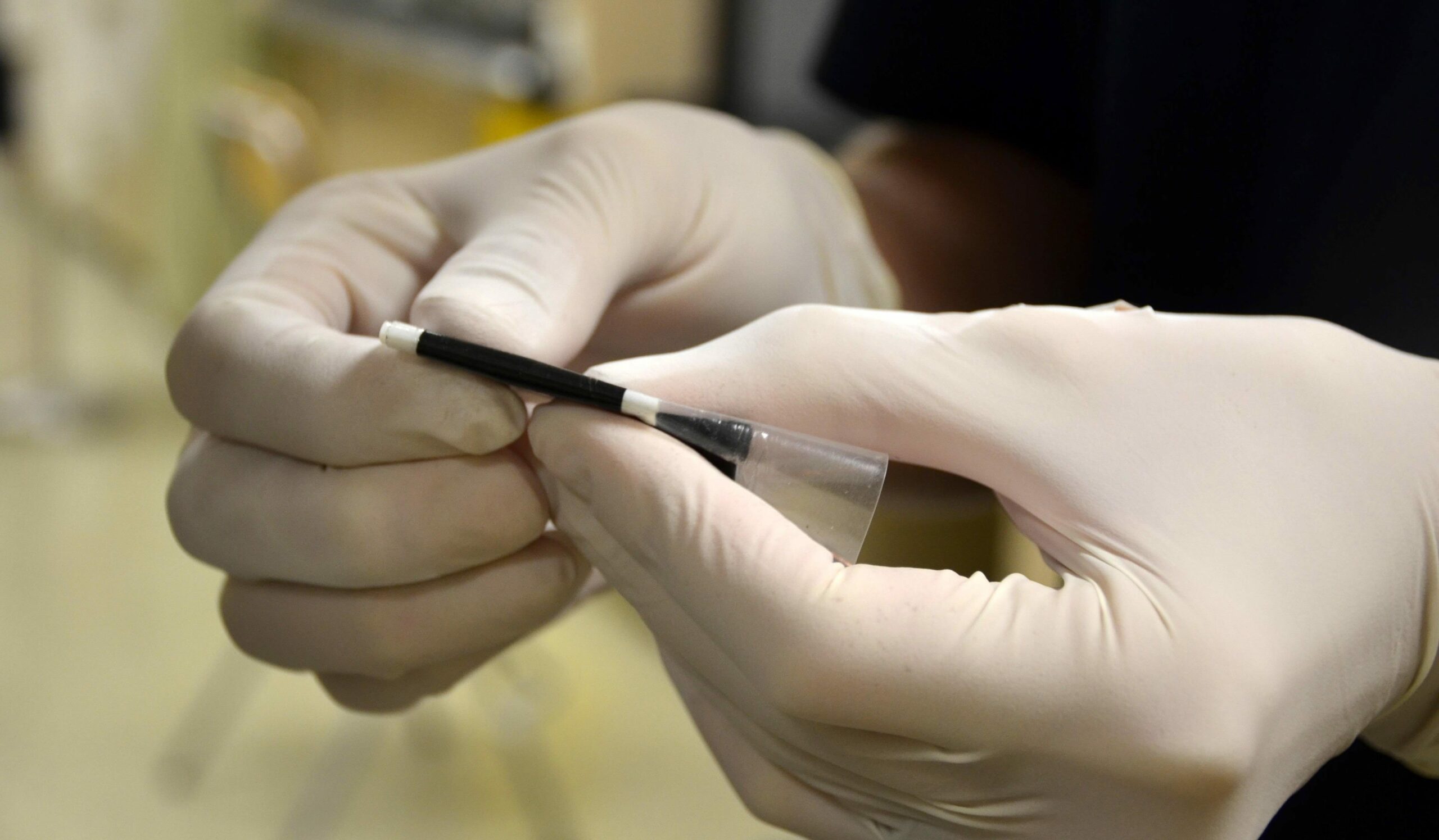 Photo Credit: U.S. Air Force photo by Marisa Alia-Novobilski
Fulfills the final obligation for receiving the prestigious $100K grant awarded from Ohio Third Frontier Technology Validation & Start-Up Fund
Announced today, the minority-owned Ohio-based start-up FlexEnergy LLC, founded to create and commercialize both flexible and high-temperature batteries for wearables, with an emphasis on smart clothing, has fully executed Patent License Agreements (PLA's) – USAF No. 22-020-RX-01 and USAF No. 22-020-RX-02 – with the United States Air Force (USAF), as represented by the Air Force Research Laboratory (AFRL), Materials & Manufacturing Directorate.
Getting these fully executed PLA's was a requirement for receiving the prestigious $100,000 one-year grant awarded to the firm by the Ohio Third Frontier Technology Validation and Start-up Fund (TVSF) and the Ohio Department of Development in August 2021. Selected from a competitive pool of applicants by the Ohio Third Frontier Commission, FlexEnergy LLC represents the goal of TVSF to create greater economic growth in Ohio based on start-up companies that commercialize technologies developed by Ohio institutions of higher education and other Ohio not-for-profit research institutions.
"Smart clothing was a $2.4 billion market in 2020 and is projected to be at $5.3 billion by 2024," said Dr. Suvankar Sengupta, CEO and President of FlexEnergy LLC. "This grant will enable us to further our work with the Air Force Research Laboratory (AFRL) under a Cooperative Research and Development Agreement (CRADA) to transfer the licensed technology and production knowledge from the lab to FlexEnergy LLC, and to explore options with the U.S. Department of Defense (DOD) as well as ventures into healthcare, sports, fitness, and fashion as the program continues."
Developed by the AFRL and newly licensed to FlexEnergy LLC, the enabling component for its battery is a flexible but mechanically robust uniform separator membrane (trade marked as Pyrolux™) with tunable and hierarchal nanoporosity, with electrochemical performance equivalent to or better than polyolefin-based systems, and with substantially improved thermal stability and performance, compared to commercially available battery separators. This USAF technology enables batteries that can flex and handle higher process and operating temperatures.
Embedded energy has remained elusive for wearables without installing battery packs/bricks into clothing that cannot be laundered or integrated into the natural contours. The lack of batteries for clothing has pushed the limits for wrist-based wearables and ignores the possibility to extend the Internet of things (IoT) to body worn tech and embedded harnesses that could be invisible inside of clothing. The best the current market offers is embedded resistive heating but nothing that enables IoT or other advances in sensing.
"The key gap in the technology thus far has been the ability to embed a power source that fits in the traditional expectations of clothing, which is fit + look + movement, with the allure of smart technology. Our battery achieves novel form factors for wearables that traditional Li-ion battery technologies cannot provide making it an ideal solution for the future of clothing from athleisure wear and military and athletic uniforms to high-end luxury fashion," said Dr. Ramachandra Revur, FlexEnergy LLC's COO and Director.
FlexEnergy LLC's 3-D template-free printing with direct write manufacturing techniques offer an economical, scalable approach to rapid prototyping of battery electrodes and architectures that can be patterned to fit a specific application or even directly printed on a device enabling direct integration of a power source into its corresponding device. The FlexEnergy LLC battery could be used in a variety of small farm factors and is able to be competitive at scale by using a printing process for custom shapes.
In addition to the DOD, the company has had significant interest in their product from many prestigious fashion and athleisure brands prompting exciting conversations about possible future collaborations.
From its inception, FlexEnergy LLC has extensively engaged with the Entrepreneurs' Center (EC) in Dayton, Ohio as a client in their Entrepreneurial Services Provider (ESP) program and works closely with Entrepreneur in Residence Sibu Janardhanan, who was instrumental in defining the company's business plan and supporting the negotiations to license technology from the Air Force.
"Our ESP program supports tech entrepreneurs with big ideas and the passion and dedication to see their vision from concept to growth, whose ideas will disrupt industries and transform expectations. We are excited about the technological advancements FlexEnergy LLC is making to revolutionize the smart clothing industry, and I'm proud to help them increase market share and impact the regional economy as they continue to build their brand," said Janardhanan, a P&L leader with over twenty years of experience with both Fortune 500 companies and start-up/scale-up global organizations.
Moving forward, the economic impact on the State of Ohio could be significant as FlexEnergy LLC is focused on making Ohio a leader in this niche of battery manufacturing. The company is committed to creating new jobs as they seek to open a manufacturing base to manage production and further research & development (R&D).
Sengupta said, "We expect to create 34 jobs by 2025 in high-tech R&D and manufacturing. I intend to tap into the knowledge, skills, and human resources available in the ecosystem of this great state to ensure sustainable growth. We want to enrich the local economy by continuing to build our contacts and partnerships globally."
About FlexEnergy LLC
FlexEnergy LLC develops nanotechnology materials solutions for flexible micro-batteries which can be seamlessly integrated into clothing and other wearable electronic device platforms. The company's proprietary coating solutions can be utilized in 3D printing and other practical additive manufacturing approaches to produce thin, flexible, micro-devices. The firm's materials expertise extends to superconductors, fuel cells, thermoelectrics, tribological coatings, and other applications which leverage the unique properties of nanomaterials. Headquartered in Columbus, Ohio, the company takes advantage of the rich materials-focused technology landscape of central Ohio through collaborations with the Air Force Research Laboratory (AFRL), the Ohio State University, and other regional organizations like the University of Pittsburgh.
About Entrepreneurs' Center
The Entrepreneurs' Center (EC) is a modern economic development organization that powers progress and prosperity through entrepreneurship. Annually, the EC works with over 1,000 brilliant entrepreneurs to start and grow companies, create jobs, generate revenue, and attract investment. The EC empowers main street and technology businesses through complimentary professional services including business planning, mentoring, training, networking, commercialization, and capital investment. The EC's talented and experienced team of advisors, entrepreneurs-in-residence, and staff design and facilitate diverse, world-class business acceleration programs on behalf of corporations, higher education institutions, and government agencies including the U.S. Department of Defense from their headquarters at The Hub Powered by PNC Bank in the historic Dayton Arcade.
---
For More Information, Contact:
Leslie Klenke, Director of Marketing
Entrepreneurs' Center
[email protected]
Share Article