Innovation Takes Center Stage as Six Startups Compete at Dayton Startup Week Pitch Competition

Photo credit Jordan Freshour/Freshour Photography
DAYTON, OH, September 13, 2023 – The annual Launch Dayton Startup Week draws hundreds of attendees to celebrate, inspire, and empower the Dayton region's startup founders and business owners. The three-day conference offers high-quality talks, hands-on business workshops, and vibrant networking opportunities.
This year, the pitch competition, powered by the Entrepreneurs' Center (EC), featured $22,500 in cash prizes. The funding was made available by the EC's Entrepreneurial Services Provider (ESP) program, run in collaboration with the Ohio Department of Development's Third Frontier Commission.
"The EC was thrilled to sponsor the pitch competition at Startup Week this year," said Lauren Tiffan, AVP of Entrepreneurial Programs at the EC. "The caliber of pitches and talent in the Dayton region is impressive, and we want to acknowledge that by awarding a larger cash prize that could really move the needle for a startup."
Six startups showcased their innovative ideas, each vying for a chance to take home a substantial cash prize. Among the startups were AIMM, Green Zero Energy, I-Squared, Kilele Health, Medical Interface Solutions, and Skuld.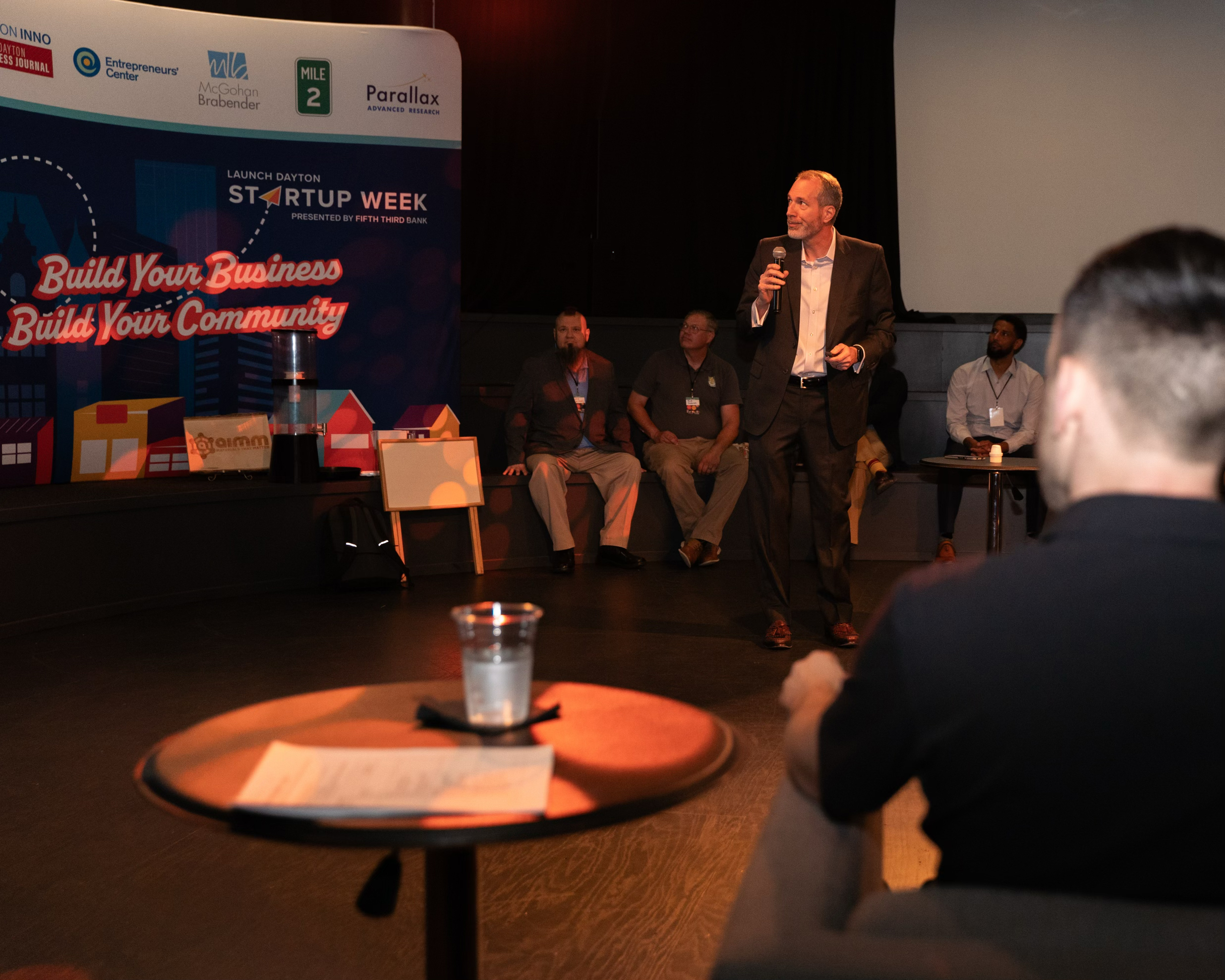 Photo credit Jordan Freshour/Freshour Photography
Kilele Health emerged as the first-place winner, securing $15,000 in prize money. Kilele Health's impressive pitch captivated the judges and the audience alike, highlighting the company's vision for transforming the healthcare landscape with its wearable patient monitors.
"We at Kilele Health are immensely thankful for the opportunity created by the funds from the Entrepreneurs' Center to bring our reimbursement strategy to the point where it can support raising capital for our Series Seed as our startup grows," said Andrew Cothrel, CEO Kilele Health Inc. 
Coming in second place was AIMM, walking away with the $5,000 prize. AIMM's pitch demonstrated their dedication to advancing their water purification solutions and solidified their position as a promising startup to watch.
The audience had their say, too, as Green Zero Energy secured the crowd favorite award, earning $2,500 in recognition of their innovative All-Fuel Generator. Green Zero Energy's ability to resonate with attendees showcased the startup's appeal and potential for broader market success.
The EC would like to congratulate all the finalists for participating in the Dayton Startup Week Pitch Competition. We look forward to the continued growth and success of these companies and the inspiring stories they will undoubtedly create in the future. 
About Entrepreneurs' Center
The Entrepreneurs' Center (EC) is a modern economic development organization that powers progress and prosperity through entrepreneurship. Annually, the EC works with over 1,000 entrepreneurs to start and grow companies, create jobs, generate revenue, and attract investment. The EC empowers main street and technology businesses through complimentary professional services, including business planning, mentoring, training, networking, commercialization, and capital investment. The EC's talented and experienced team of advisors, entrepreneurs-in-residence, and staff design and facilitate diverse, world-class business acceleration programs on behalf of corporations, higher education institutions, and government agencies, including the U.S. Department of Defense from their headquarters at The Hub Powered by PNC Bank in the historic Dayton Arcade. Learn more at EC Innovates.
About Ohio Third Frontier
Managed by the Ohio Department of Development, Ohio Third Frontier (OTF) is an internationally recognized $2.1 billion economic development initiative supporting technology entrepreneurship and growing jobs across the state of Ohio, positively changing the trajectory of its economy. Through a statewide robust network of resources, entrepreneurs with compelling business models for near-term market opportunities based on technology and tech-enabled products and services have access to the technology, business assistance, capital, and talent to turn great ideas into thriving companies. OTF is driving this expanding, vibrant community of high-growth technology companies and making Ohio a top destination for tech entrepreneurs. Learn more at Ohio Third Frontier.
About Entrepreneurial Services Provider Program
The purpose of the Entrepreneurial Services Provider (ESP) Program is to fill gaps in the entrepreneurial system for high-potential Ohio concept, seed, and early-stage technology companies. Its goal is to significantly increase technology-based entrepreneurial commercialization outcomes in the State. Each ESP represents a coordinated network of high-value services and assistance providers that is visible and easily accessible to technology-based entrepreneurs and small tech-based companies. The ESP providers take an approach that tightly integrates sources of deal flow, entrepreneurial support, and capital to effectively grow each region's startup ecosystem. Reaching out to minorities, women, veterans, and rural entrepreneurs, the program seeks to position Ohio as a leader in inclusive technology and entrepreneurship. Learn more at ESP Program.
About AIMM
AIMM is developing a platform technology that enables us to address difficult-to-treat water issues, such as forever chemicals, to help provide safe water to all. Learn more at AIMM.
About Green Zero Energy
Green Zero Energy is bringing next-level reliability to portable power generation, providing clean generators that run on any fuel. Learn more at Green Zero Energy.
About I-Squared
I-Squared Learning Solutions develops interactive and inclusive STEM tools for young learners, allowing readers to modify each character to look like them and the communities they're from, using math to solve everyday problems.
About Kilele Health
Kilele Health is developing wearable remote continuous patient monitoring cardiometabolic diseases, empowering doctors and patients with accurate real-time data. Learn more at Kilele Health.
About Medical Interface Solutions
Medical Interface Solutions is developing AI to detect stroke deficits in the prehospital setting. Using our smart device, STROKENEKT digitally screens for signs of stroke, links EMS by secure video chat to an on-demand neurologist, and initiates stroke care orders prior to hospital arrival. 
About Skuld
Skuld is developing equipment and part designs to help industry reduce metal 3D printing costs by 90% with our new patent pending AMEC process. Learn more at Skuld.
---
For More Information, Contact:
Leslie Klenke, Director of Marketing
Entrepreneurs' Center
[email protected]
Share Article